Virtual Tech Meetup (بالعربي) Event 3 + Talk: How to write and publish a book
Virtual Tech meetup in Arabic - Taking place on September 5th, 2020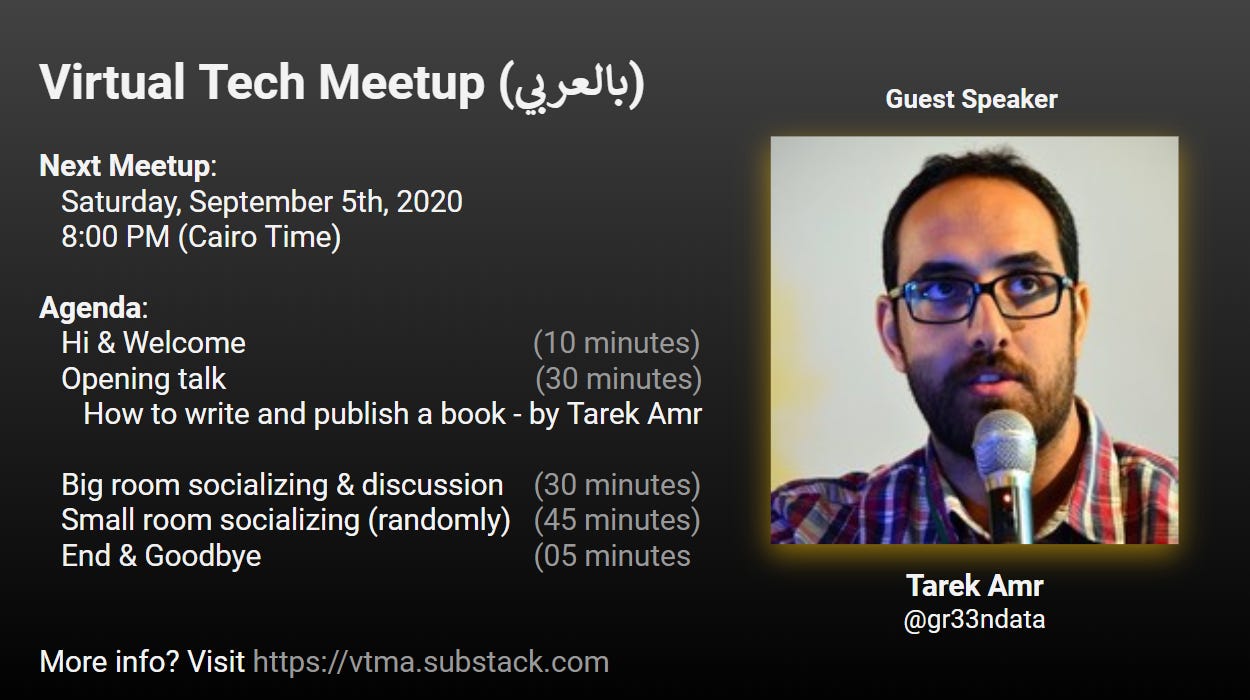 Hey Arab Techies,
I hope you are safe and well wherever you are!
It was really fun to meet many of you during Eid. Our guest speaker Aliaa made an impressive talk, and we followed that by a very long discussion about different topics. If you missed her talk, you can find the video and a summary of it here.
Now it's time for a new virtual meetup. I'm looking forward to virtually meeting many of you again. If you would like to join us, please make sure to register here today.
Date: Saturday, September 5th, 2020
Time: 8:00 PM (Cairo Time)
Opening Talk
This time, I'm happy to announce that our guest speaker for this coming meetup is going to be Tarek Amr (@gr33ndata). Tarek is going to talk to us about his experience authoring and publishing 2 technical books.
Tarek is a Senior Data Scientist. He is based in Amsterdam, and he has a Masters's degree from the University of East Anglia in the field of Knowledge Discovery and Data Mining. Tarek is also known for his fun and educational videos about Machine learning (in Arabic).
Tarek has published 2 technical books:
If you have ever wondered what does it take to publish a technical book, then join our next virtual meetup. You will have a chance then to talk directly to Tarek and learn from his experience.
Also, you can start sharing your questions in advance by adding comments to this page. I will then forward your questions to Tarek to make sure that they are covered in his talk.
Also if you are not subscribed already to this newsletter, make sure you do subscribe to stay up to date on our upcoming meetups and talks.
That's it!
See you at the virtual meetup.
Shreef

PS: Do you wonder how our virtual meetups look like? here is a snapshot from our previous meetup