Virtual Tech Meetup (بالعربي) Event 4 + Talk: A practical look at Product Management
Virtual Tech meetup in Arabic - Taking place on November 6th, 2020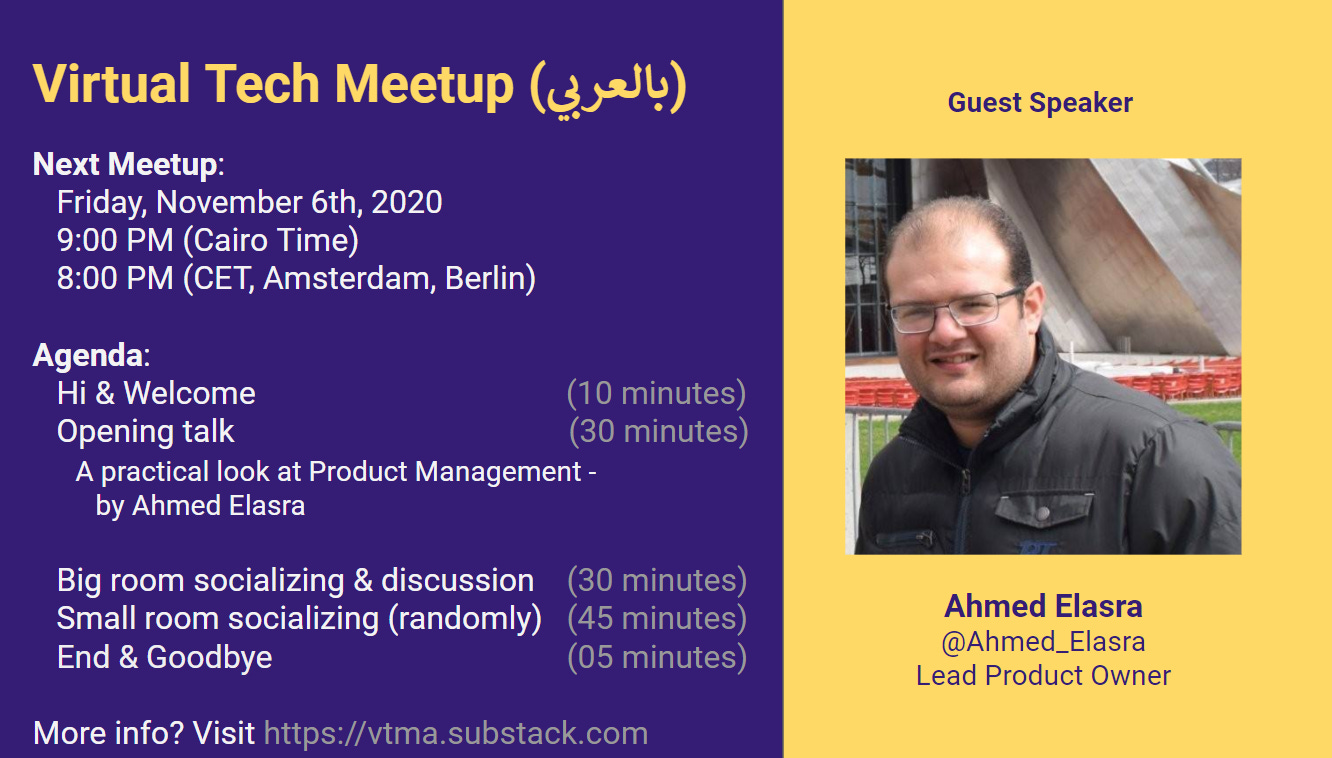 Hey Arab Techies,
I hope you are safe and well wherever you are!
It's time for a new virtual meetup. Our next meetup is going to take place on
Friday, November 6th, 2020
at 9:00 PM (Cairo Time),
8:00 PM (CET, Amsterdam. Berline Time)
The opening talk
As always, we have an amazing guest speaker to open up the meetup. This time, our guest speaker is Ahmed Elasra (@Ahmed_Elasra). Ahmed is a product leader based in Dublin, Ireland. His talk is going to be about Product Management. A highly requested topic.
About the talk in Ahmed's own words:
Product management is a broad term that is used in a variety of ways along with other terms, such as:

Product development

Product marketing

Product success

Product analytics.

In this session, we will talk briefly about product management as well as these terminologies and how they collectively form the product org within companies in the real world.
After following Ahmed's talk, we will start our usual socializing activities with tens of the brightest Arab techies joining us from different cities around the world.
If you didn't book your place to attend the next meetup already, please do register now using this link.
Did you miss our previous meetup?
If you didn't manage to attend our previous meetup, don't worry. At least you can watch a video recording of the first 45 minutes. Tarek Amr shared with us his experience authoring and publishing 2 technical books. Grab a cup of coffee and watch that video whenever you have some time.
Also if you are not subscribed already to this newsletter, make sure you do subscribe to stay up to date on our upcoming meetups and talks.
PS: Share this post with your friends. They will thank you later!
That's it!
See you at the virtual meetup.
@Shreef from @VTMArabic